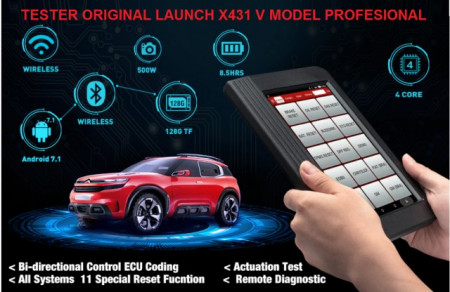 Descriere
Launch X431 V 8 inch, MODEL NOU cu update 24 luni GRATUIT: este un tester auto profesional universal pentru SERVICE AUTO MULTIMARCA Original Launch 100%  dedicat atat masinilor europene cat si asiatice, americane, vine cu software integrat, update online direct pe site-ul producatorului, display color cu touch screen - este oferit in special garajelor/service-urilor sau specialistilor din domeniul diagnozei auto. Recomandam cu incredere si acest tester tuturor clientilor nostri care doresc un produs original la un pret rezonabil si cu o foarte buna acoperire pe marcile auto europene dar si cele americane + asiatice. Podusul acopera total gama Audi, VW, B MW/MINI, Fiat, Jaguar, MB, SAAB, Land Rover, Volvo, SMART, Porsche, si Sprinter/Transporter. Detine update de software gratuit timp de 24 de luni pe site-ul producatorului Launch. Specificatii tehnice gasiti si la link-ul de download oferit de furnizor, click DATE TEHNICE Launch X431 PRO3.

X431 V este un sistem complet de diagnosticare automată - detine active 11 Funcții Speciale de codare ECU: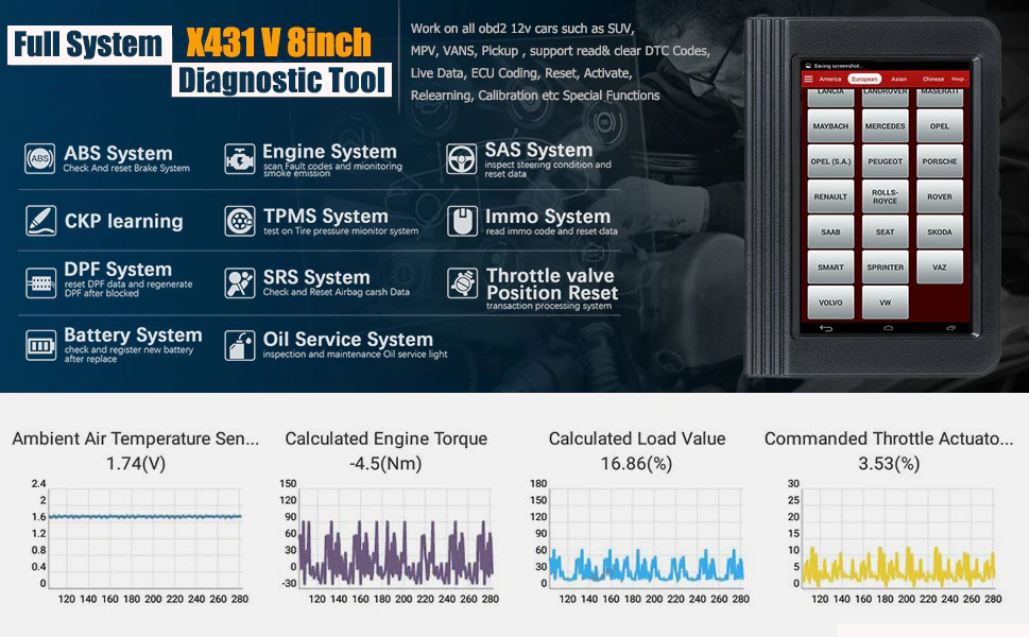 11

 Kinds of Special 

Reset

 Service Functions
X-431 V supports programmable installation module matching,coding. and common special functions for most car models. The special functions include service lampone-click zeroing, throttle matching, steering angle resetting, brake pad resetting tire pressure 
resetting, immobilizer matching, ABS bleeding, battery matching, tooth learning, injector coding. and DPF regeneration
Oil Reset :
allows you to perform reset for a new calculation of Engine Oil Life system once changed the oil.
EPB 
Reset :
 is important in the maintenance of electronic braking system's safety and efficiency.
BMS 

Reset:

 allows the scan tool to evaluate the battery charge state, monitor the close-circuit current, register the battery replacement, and activate the rest state of the vehicle.
DPF 

Reset:

 specially works for Diesel Particulate Filter system with DPF regeneration, DPF component replacement teach-in and DPF teach-in after replacing the engine control unit.
SAS 

Reset:

 helps clear the fault steering angle sensor memories and plays an important role in the steering angle sensor calibration.
TPMS  Reset :

makes sense in displaying sensor IDs from the vehicle's ECU, inputting TPMS sensor replacement IDs and testing sensors.
IMMO reset:

 it is mainly used to disable the lost vehicle keys and program a new replacement key fob.
ABS Bleeding:

 ABS brake bleeding to get a firm brake pad after air exhaustion.
Throttle reset:

 The throttle body is a tube containing a pivoting flat valve (butterfly) that is used to control the amount ofair entering an engine. In an electronically fuel injected car, a throttle position sensor and air flow sensorcommunicate with the computer, which supplies the corresponding amount of fuel needed at the injectors. It must need re-learning throttle sensor position after clearing or repair
Gear Learning :
 The scan tool monitors certain camshaft position sensors signals to determine if all conditions are met to continue with the procedure for Engine running
Injector Coding:

 Leaking injectors and some dead injectors can be missed even when an injector is disabled. Otherproblems with the ignition system and mechanical components also may not show an rpm loss when aninjector is turned off.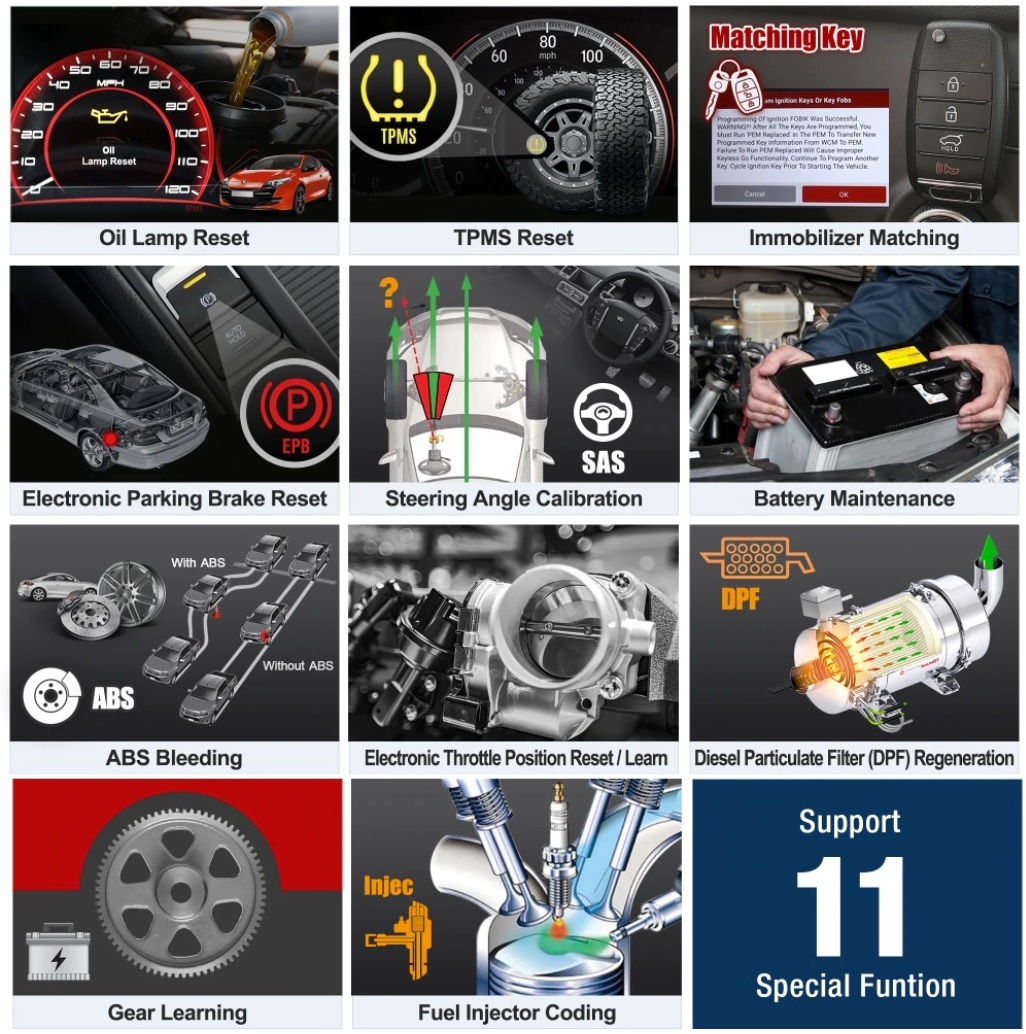 X-431 v communication via bluetooth, very easy to use. X-431 V Pad computer specially designed forAndroid platform with clear and user-friendly interface. X-431 v Pad computer equipped with anexclusive X-431 V protection sleeve to prevent it from being damaged
X-431 V Tablet 
Parameter
 :
Operating System: Android 7.1
Battery: 4850mh, rechargeable polymer lithium battery
Extension memory card: 16 G (Can up to 128GB )
Touch screen: 5 points capacitive touch screen
Wi-Fi/Bluetooth: Supported
Produse similare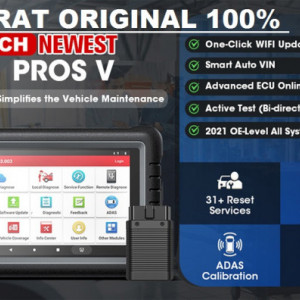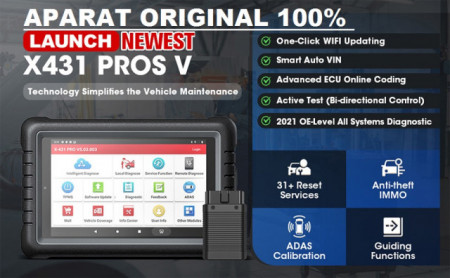 1%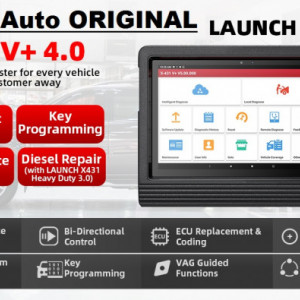 2%