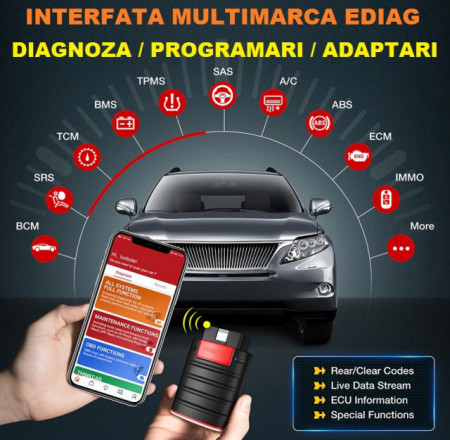 Descriere
NOUA interfata auto originala produsa de catre compania KINGBOLEN impreuna cu LAUNCH X431, modelul Ediag Old BOOT, similar cu Thinkdiag generatia full service auto:
=> Instrument de diagnosticare auto pentru toate funcțiile auto, turisme & Autoutuilitare 12 V
=>Cititor de coduri OBD2 Instrumente de scanare Codare ECU
=>Test activ PK Thinkdiag 
=>Toate programele active si update online gratuit 1 an: cuprinde 115 mărci de mașini, Diagnosticare a tuturor sistemelor, Codare ECU, Test activ și 16 funcție de resetare.
=> Actualizare gratuită pe viață pentru toate funcțiile OBD2, licenta nelimitata, nu expira.

Update
Type 3 & Type 4 , Old Ediag
1. Can work with Dz APP, also work with Ediag APP.

2. Only Android smartphones are supported.

3. If you use the Dz APP, you need to purchase the Dz software yourself.

4. If you use the Official APP: Ediag (There is only 1 car brand or 1 reset function 1 Year free + Demo +OBDII)
Type 1 & Type 2, New version Ediag
1. Can only be used with Ediag APP (please note that Dz is not supported)

2. Support android and ios system smart phone.

3. With All software 1 year free. (including 115 car brands + all software +16 Reset Service )
All Systems Diagnostics Tool, Let you know and maintain your vehicle more comprehensively
KINGBOLEN Ediag supports all Systems diagnostic function, it can read/clear fault codes, read live data, read control module information, actuation tests and maintenance functions for ECM, BCM, SRS, TCM, BMS, TPMS, SAS, A/C system etc...

Available for most models of 115+ car brands after 1996, all software has 1 year free update.
12 Languages supported, You can switch languages at will
Russian, English, French, Spanish, German, Italian, Portuguese, Japanese, Turkish, Polish, Greece, Traditional Chinese

More languages are being added, stay tuned...
Active Test (Bi-directional control)
KINGBOLEN Ediag car code reader actuates solenoids and actuators for active testing, send commands to systems/components to test their working status, without using the vehicle controls which saves much time to identify malfunction causes.

Uses the Ediag App to test if the actuator is normal, without using the vehicle's controls, to get a significant boost in effectiveness:
[ Turn on the radiator fan | Modulate the throttle | Open/close windows | Operate mirrors | Turn on/off the lights | Turn on/off the sound horn | Test door lock … ]
ECU Coding (Customize)
ECU CODING allows you to match the replaced components with ECU, flash hidden functions for BMW, for GM, for Benz etc. No matter you are private owner or professional technician, KINGBOLEN Ediag is a powerful and handy scanner tool.

Uses the Ediag App to modify the adaptive data for vehicle control modules, after repairs or replacements of vehicle parts including:
[ Power Window | Illuminated Entry | Warning | Light Control | Slide Roof | Air Conditioner | Display | Unit Conversion | Entry & Start | PSD & PBD Operation | Seat … ]
Ediag supports the 16 most commonly used maintenance functions
This OBD2 scanner is specially designed to provide you with quick access to the vehicle systems for various scheduled service and maintenance performances. There is some commonly-used special reset services are listed for your reference:

1. Oil Reset Service
2. Steering Angle Calibration
3. Electronic Parking Brake Reset
4. Battery Register & Battery Maintenance
5. ABS Bleeding
6. Electronic Throttle Position Reset & Learn
7. Diesel Particulate Filter (DPF) Regeneration
8. Tire Pressure Monitor System Reset
9. Anti-theft Matching
10. Injector matching
11. Air Suspension Reset
12. Gearbox Reset
13. Sunroof RESET
14. AFS Reset
15. EGR Reset
16. Gear Learning (This function needs to enter the model software to find)
IMMO Key Matching
About Key Programming: KINGBOLEN Ediag supports Add, Delete & Reprogram Keys.

>>> Rewrite smart keys, All smart keys lost, Replace smart key ECU, Replace KNOB IGNITION;
>>>> Reset Key: Relearn a key (Note: this function is NOT universally compatible. Please check compatibility with us if necessary.)

KINGBOLEN Ediag supports PIN Code reading for most cars before 2008, for vehicles after 2008, you need to have PIN Code to do key programming).

If you have questions, please give me your model year and we will check for you
ALL OBD2/EOBD Full Function Lifetime Free update
This diagnostic software can test vehicle Engine systems. All models with engine meeting SAE J1850, ISO9241-2, ISO14230-4, ISO15765 Standard in OBD2 & EOBD.

1. View freeze frame date
2. support graph data stream
3. O2 Sensor test
4. Evap system test
5. On-Board monitor test
6. Read & Clear DTCs
7. Identify VIN information
8. DTC code look up
9. Turn off MIL (Malfunction Indicator Lights)
10. I/M Readiness status test
Auto Scan Car VIN Code
KINGBOLEN Ediag can automatically scan the car's information, include VIN number, release year, model and engine type. Save your time.
4 Data display in 1 Graph
KINGBOLEN Ediag will Read vehicle's live data, and present by graph. Optional combination of multiple data.

Live Data Stream combined Graphing + Data Record better for monitoring vehicle performance and analyze the abnormal parameter.
Easily print and share vehicle diagnostic reports
Full system Vehicle health report will be automatically created after diagnosis, report can be shared.

You can also share the diagnostic report to social platforms with one click
Diagnosis Function Record Playback.
Record your problem in detail and understand the problem more effectively.
Supports 95% of cars (covers almost all cars in the world)
For OBDII diagnostics, the obd2 code reader works great for most cars built in 1996 or later, being compatible with following protocols:

- ISO 14230-4 (KWP2000)
- ISO 15765-4 (CAN)
- ISO 9141-2 (iso)
- ISO 14229 (uds)
- SAE J1850 (VPW & PWM)
- Original protocols of makers
For advanced functions as active test, all system diagnostics, and maintenance service, it covers 95% of car models available in the market including:

-Asia:
for D-aewoo, for H-oda, for JP Isuzu, for K-ia, for M--da, for Mit-subishi, for N--an, for SGM, for Su-baru, for S-uzuki, for T-o-ta,for H-undai, for Ssa-ngyong

-Europe:
for A-ston Martin, for A-di, for B--z, for B-W, for C-itroen, for F--rrari, for F-at, for L-and Rover, for M-aserati, for O-pel, for P-rsche, for can clip, for R-ver, for Sa-ab, for S-eat, for S-koda, for S-mart, for Sprinter, for V*-o, for V-W, for P-eugeot

-America:
for Chrysler, for USA-F--d, for G-M
And keep updating.
With multilingual instructions, easy to Use
KINGBOLEN Ediag contains multi-language instructions, teaching you how to operate and use step by step, easy to learn.

Step 1. Download and install the APP ( APP name : Ediag)
Step 2. Register and log in with email.
Step 3. Enter SN to Activate.
Step 4. Plug Ediag to your car and Turn on the vehicle ignition.
Step 5. Bluetooth Connection
Step 6. Download the Diagnostics Software and start your car diagnosis.

Tips:Enter the Ediag app, it will automatically search for activated devices, select your device and connect to itvia bluetooth in the app. No need to connect the bluetooth in the setting of your phone.
KINGBOLEN Ediag Package List
1. Ediag bluetooth connector
2. Multilingual manual
3. Paper Packing box
Produse similare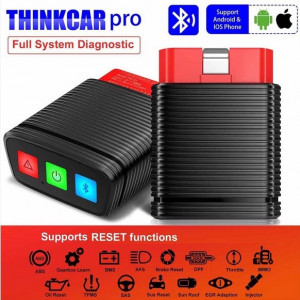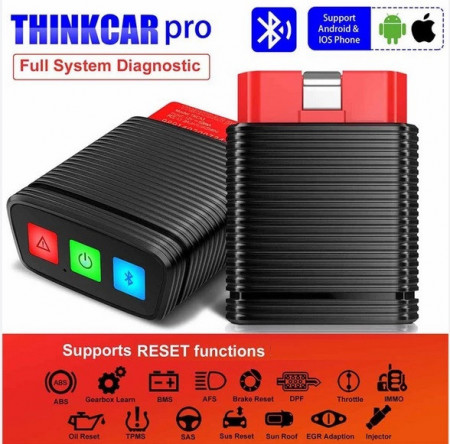 8%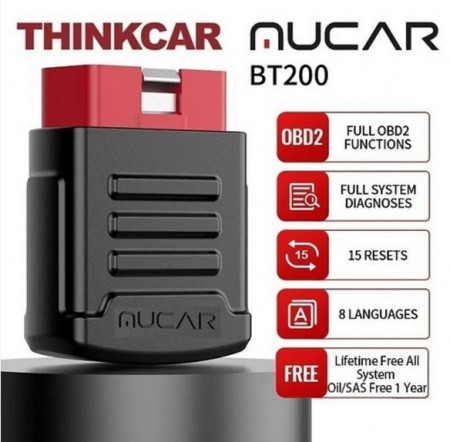 8%